Admissions
Virtual Open Evening 2020
This year due to the current COVID restrictions we will not be able to host our annual Open Evening.
This is a real disappointment as it is normally a lively evening full of interactive activities across our full curriculum, information and where you can meet us in person and feel the energy of our school. As we take COVID safety very seriously, this year, we will be providing a range of online opportunities that will help you learn more about our school. Please see the poster below and the letter at the bottom of this page for further details.
In exceptional circumstances, we recognise that it may be necessary to have a one-to-one conversation with a member of staff. If this is something that you think you need, please contact the office via email: office@emmanuel.dorset.sch.uk.
In order to help us prioritise the most important needs please make clear in your communication why you require an individual response.
Our YouTube Premiere Video
Our Open Evening premiere video can be accessed here from 6.30pm on Thursday 22nd October 2020.
Contact our Senior Team
Our Senior team will be available to answer your questions immediately after the presentation has finished( between 7pm and 7.30pm on Thursday 22nd October) via Facebook (click the link or go to facebook.com/emmanuelmiddleschool or our Open Day email address which is openday@emmanuel.dorset.sch.uk
Please click here to register your interest in having a further group video chat with us to hear more about our school. This would be an opportunity to ask the senior team any questions you may have.
Further videos to help you get to know our school.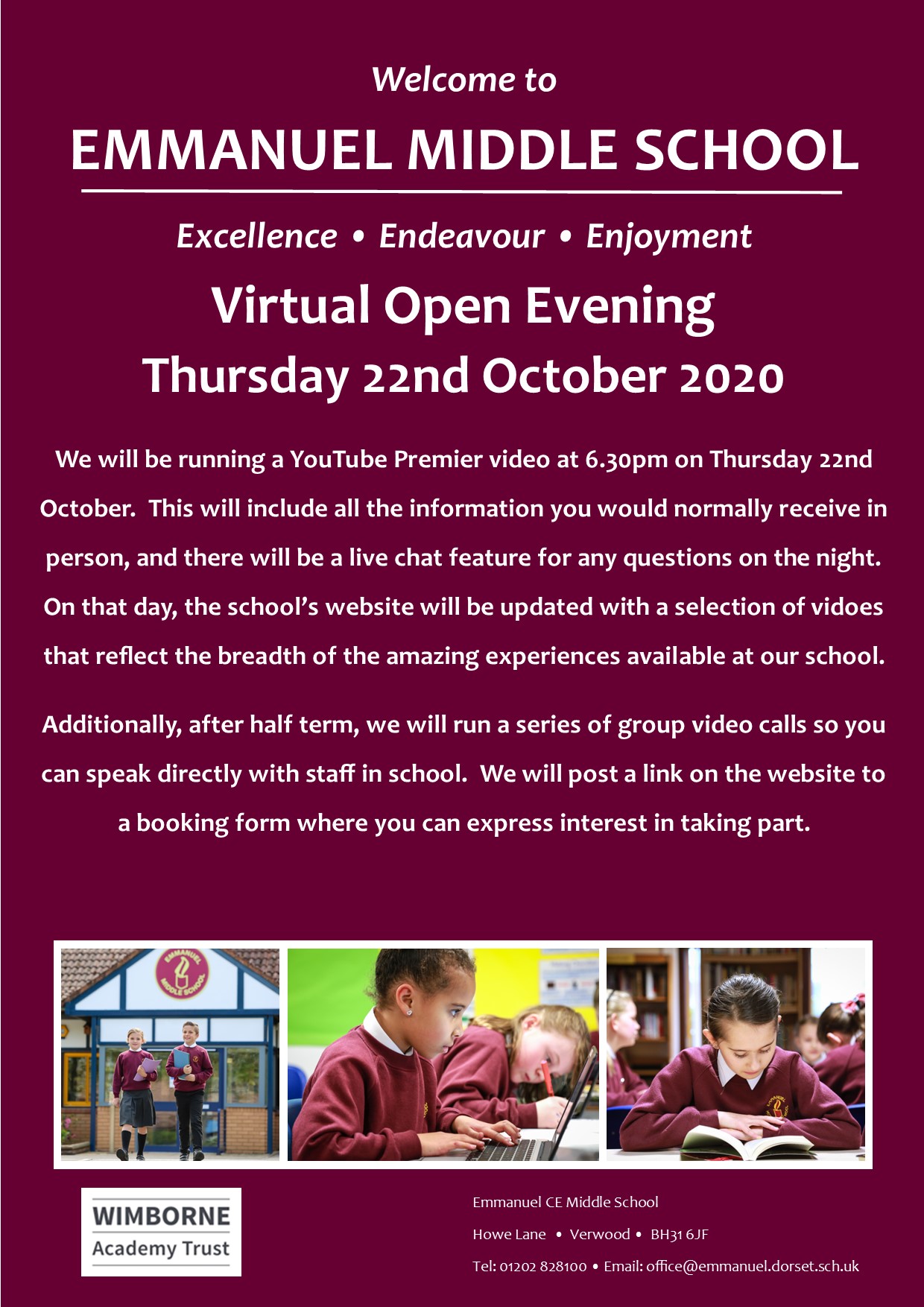 Admission Information
Important Information For Parents Concerning School Admissions
We welcome applications from parents for their children to join our school at any time. If the school place you are seeking for your child is required during the school year, you must apply directly to our school by completing the In-Year Application Form provided below. This may be returned to the School by email attachment or post and you will receive a decision within a maximum of 10 school days.
Parents are asked to note the following information regarding School Admission Arrangements:
Emmanuel CE Middle School is a member of the Wimborne Academy Trust partnership of schools, for which the Admission Authority is the 'Academy Trust'. This is a vibrant and exciting family of schools, driven to provide high quality education and to fully support the local and wider community. The 'day to day' administration of admission applications and admission decisions are delegated to the School Academy Committee, whose Admissions Committee will consider every application fairly and reasonably in accordance with the Admission Arrangements set out below.
For further information concerning Wimborne Academy Trust admissions please click here.
Admissions
Our school admits children between the ages of 9 and 13 (Year 5 – Year 8) in accordance with the Dorset Education Authority policy. Priority is given to families living in or transferring to the area normally served by our school but we do take a percentage of children outside of our catchment area.
If you live outside this area and would prefer your child to attend Emmanuel Middle School you will be considered under the Authority's policy on parental preferences. Please do not hesitate to contact Dorset School Admissions, who will advise you of the procedure to follow.
We are always delighted to show parents/carers around the school and answer any questions you might have. Please telephone the school office on 01202 828100 to arrange a tour and meet a member of the Senior Leadership Team.
All applications to attend Emmanuel Middle School to start in Year 5 should be made via School Admissions at Dorset County Council. Please visit the School Admissions pages on the Dorset For You website where details about applying for a school place, policies, catchment areas and contact details can be found here.
Telephone queries can be made on 01305 221060.
Click here to apply on-line for a school place.
If you prefer, you can print the form, complete it by hand and send it by post to the Admissions Team at Dorset County Council.
School Admission Team
Strategic Services
County Hall
Colliton Park
Dorchester
DT1 1XJ
A Parent's Guide to Admissions 2020 – 2021:
A guide to applying for a school place for the academic year 2020/21 can be found here.
Pupil Admission Number (PAN)
This is the maximum number of pupils that the Dorset Admissions Team allocates to the school's pupil intake year. The pupil admission number at Emmanuel Middle School is 124 pupils in years 5 and 6, 96 in year 7 and 91 in year 8.
Appeals Process
Should the total number of applications for a year group exceed the PAN, and your application is rejected, you can make an appeal to an Appeals Panel. Click here to download a form, and once completed, send it to the address shown on the website.
School Catchment/Local Services
If you are moving into the area, and wish to know whether a particular address falls into the catchment area of our school, click here and enter your postcode. The schools serving your postcode will be listed – as well as details of all local services serving the address.